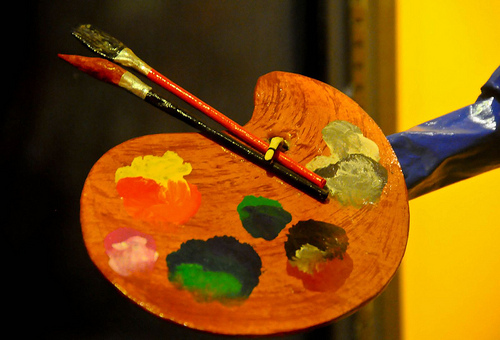 No, I've never posed nude for a bunch of would-be Rembrandts.
Many years ago, I put my comfort zone to the test in a big-for-me way.  My philosophically trained brain – - tired of the constant hammering that reason was inflicting on my unmethodical spirit – - led me to take art classes.  This was truly a logic-defying move since two-dimensional art was not at all my forte.  My skill level at the time hovered around stick figures and coloring like a pre-schooler.  Enthusiastic, yes.  Technically skilled, not even close.
I had just read the book called Drawing on the Right Side of the Brain by Betty Edwards.  It convinced me that I could learn to make figures, faces and scenery come to life on paper or canvas.  I signed up for a few classes.  I began to transfer colors, contours and corners with life-like rendering onto what once was a blank white space.  Sure enough, I learned to draw and paint.  Once I got past being overly self-critical, I started to like some of my work.  Soon, I was showing my better pieces to anyone who took an interest in the obnoxiously big drawing pad and easel I carried around all over town.  A friend of a friend even requested a painting from me.  One of my pieces hung in a classroom for years; duly complimented and thoroughly loved.
I remember some of the conversations I had with the disbelievers.  Most of them insisted that I was able to learn to draw because I already had the talent; that they wouldn't have been able to make anything come to life on any flat surface because they lacked it.  Oh, how I would've agreed with them had I not dared to cross that bridge.  And because I made it to the other side, I vehemently disagreed.
Now, I'm no Michelangelo (or Betty Edwards), and I would never claim to be a gifted illustrator or painter, but once upon a time, I used charcoal and paintbrushes and made pretty pictures.  And I learned to do this long past the purported critical first five years of life.  Had I chickened out from this comfort zone-thwarting idea, I would not have learned that:

It's never too late to discover a newfound talent or learn something new. A lot of people measure their willingness to pick up a new skill according to their age.  I often hear I'm too old for that and I'm sure I, too, have said it myself.  But this type of thinking can be needlessly limiting.  At the very least, it sucks out that sense of adventure, further gluing that proverbial arse to inertia when what it desperately needs is a good a-rattlin' and a-shakin'.
Logic is not everything. Anyone who had seen my Crayola conceptions would for sure have thought that art classes were ill-advised.  I showed zero potential prior to taking lessons.  But, had I ignored this utterly unreasonable voice within me that was aching for non-verbal articulation, I would still be cursing logic's absence for why certain things happen that absolutely shouldn't.

Some pre-conceived notions are false. For much of my life, I never thought I could draw or paint.  What a lie and how I fell for it hook, line and sinker.  I was negating a valid part of me to myself no less, well into my adult years.
There's more from which it came. My ability to draw and paint?  My willingness to learn along with some good teachers unearthed it.  Other skills, talents, capabilities?  Wherever these things come from, they're there, in ample supply, waiting to be activated, honed, transmitted and shared with others.  What's even better is, this is true for each of us.  This, I'm convinced of, just as much as I believed I could learn to draw and paint before I ever took a formal class as an adult.
So, it seems that art, after all, has some practical value.
++++++++++++++++++++
What do you think?
Does this sound like illogical crazy talk?
Have you ever done anything that defied logic and brought you a new layer of awareness?
How do you unglue your proverbial arse from inertia?
Are we westerners hooked on logic, chasing it where there's none, and prizing it too highly and at the expense of less cerebral but equally important things?
++++++++++++++++++++
Image by Valerie Everett