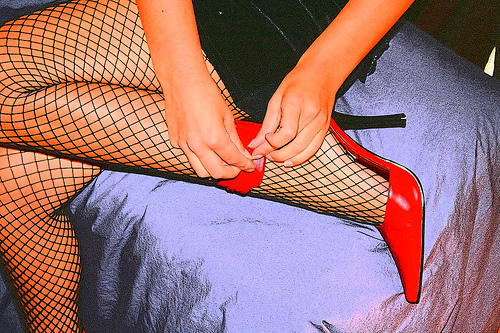 Reading a good book in an easy chair by candlelight
Taking a nature walk in a small rural town
Exchanging travel stories with nice neighbors
Vege-ing out in front of Dave Letterman
Laughing, clinking wine glasses in celebration with friends and family
These are heart-warming, often non-confrontational, non-threatening slices of life we've come to expect, look forward to or possibly even take for granted.  Moments within our comfort zone.  Always welcome.  They're the woolen socks and mittens to our hands and feet on a chilly day.
Our comfort zone is home to us.  In our comfort zone, we can be effortlessly real in our jeans, a hoodie and sneakers.  It's where the men can ditch their sharp Sunday best, and the women can keep the red-hot stilettos safely stored in a box.
There's no pressure to dazzle anyone in the comfort zone.  We're all family here.
WHAT'S NOT TO LIKE?
Nothing.  Nothing at all.
Except…
Sometimes, our comfort zone equals danger zone.
HOW?
Why on earth would anyone trade in solid, comfy, broken-in sneakers for brand-new, circulation-cutting, strappy stilettos?  (Men, please bear with me on this analogy.)  Surely not for the men?  Not for the women?  Certainly not for the children!
The danger in staying within our comfort zone is its one-dimensionality.  Not to say that our loved ones are one-dimensional and not worth dressing up for.  Not at all.  But they're most likely not going to surprise or challenge us.  Not usually, anyway.  And if they ever do, they'll love us always.  There's a predictability there, wouldn't you say?
In the same manner, our trusty old sneakers will almost always lead us where we're safe, where we're on even footing, where we can confidently and securely follow a path.
The danger, then, is in the safety of it all.

BUSTING OUT OF OUR COMFORT ZONE
When we women have an occasion to wear our pinching stilettos, or fancy dress shoes for the men, we're most likely going to be meeting strangers and dialing up the sparkling conversation.  We may have to endure being in these ouch-inducing shoes for hours.  Or heaven forbid, with a little help from really bumpin' music, we may be forced to dance and prance around in them, dogs barking, balance eroding, head spinning, senses failing, insecurities radiating.
HOW IS ANY OF THIS MISERY GOOD, YOU ASK
When we step out of our comfort zone, there are challenges that await us.  There are surprises lurking from who knows where.  And/But, there's always a chance we'll end up having a gloriously, deliciously, riotously, unexpectedly grand time.
Because we could have an especially deepening time in the process.
Because we could end up emerging as kick-ass superheroes we never imagined we could be.
Because we could be meeting a really cool person: a potential husband to our sister, our niece's future art teacher, or a prospective donor to our cause.  Someone who just might be easily absorbed into our comfort zone.  Someone we wouldn't mind seeing in jeans, a hoodie and sneakers.
And if by some remote chance nothing fabulous ever happens, then we at least got a sneak preview of what lurks in the vast pool outside the comfort zone.  A zone we'll keep going back to, in our trusty ole sneakers, where everyone's love for us awaits, undiminished, whenever we step out of it in our fancy footwear.
MORE PINCH ON THE FEET, PLEASE!
It may not be my place to judge, but, it seems rather dull, and possibly dangerous for our well-being, to only do what we feel safe doing all the time.
Sexy stilettos or not, in life, there are numerous opportunities to rock our world, so to speak.  With the holidays on the horizon, we have an easy opportunity to step a little bit outside of our comfort zone.  For starters, if we don't usually throw parties, we could plan to host a simple celebration and maybe invite a few people who aren't already in the family.  Or, if we usually buy presents for everyone, we could instead take that money and spread it around as donations to several local homeless shelters and food banks.
The point is we should be stepping out of our comfort zone while we can.  We should be getting banged up, getting our hearts broken, getting laughed at, getting booed, getting holes in our safety net, at least a little bit.  Life is, after all, meant to be lived, not merely spent in hibernation in the comforts of home.
While predictability, security and safety are things we crave when we don't have them, we have to fight inertia at least once in a while.
Because we won't always be able to.
Because one day, we won't get to choose what shoes to wear.

YOUR FORMERLY-DANGER-ZONE-TURNED-COMFORT-ZONE EXPERIENCE
Have you ever ventured out into the danger zone and found that you loved the experience?  If so, please share with the readers.
…and the day came when the risk to remain tight in a bud was more painful than the risk it took to blossom. ~ Anais Nin
Image by Jillian Anne Photography