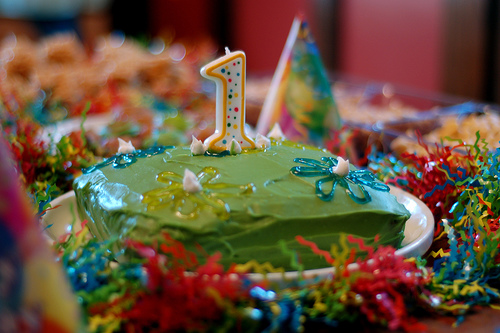 HAPPY BIRTHDAY
Guess what?  As of last Friday, this blog is one year old!  Time flies when you're having a blast!
In one short year, this space has seen love, kindness, beauty, truth, compassion and generosity.  All this goodness and who is responsible?  You.  By reading, commenting, e-mailing and sharing your ideas and support, you have proven what I have suspected all along:  that there is an abundance of good in the world.
It's amazing, really.  Whether I'm asking tough questions, talking about gender, race or socio-economic issues or reaching out on behalf of The Congo, Haiti or Pakistan, you always respond.  And this goes to show something I often wonder about:  people care about other people.
And so, I thank you.  For confirming that we don't need to know each other in real life in order to connect on a real and meaningful level.
My first ever post is an attempt to explain the name of this blog.  If you've ever wondered how I came up with this name, you can read it here.  If you happen to click over, come back and tell me what you think.
BLOGGER AWARDS
Sometime ago, I was thrilled to receive a couple of blogger awards.  YAY!
Jenny at Arriving at Your Own Door gave me a You're Going Places, Baby award.  Jenny posts gorgeous pictures of nature and writes about compassion and finding peace in troubling times.  Her warm and artistic soul are evident in her writing and photographs.  I encourage you to click over.  Thank you, Jenny!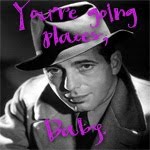 Then a few days later, Justine at Here Where I Have Landed gave me a Beautiful Blogger award.  Justine is a beautiful blogger indeed.  She writes poignant and humorous tales about her feisty and adorable daughter and her experiences with merging east and west.  Her writing has made me teary a few times.  Click on over for a dose of beauty.  Thank you, Justine!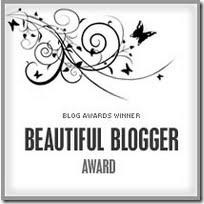 So now, I get to pass on these two awards to some unsuspecting bloggers.  FUN!
A BIT ABOUT ME
But before I do, I'm supposed to share seven things about me that you don't already know.  Here goes:
I have trouble following a recipe.  I substitute and omit ingredients and somewhere along the way, I'll probably throw in a new ingredient just because it feels right.  The dish often turns our great.  How's that for encouragement to follow those instincts?
I dislike driving.  I carpool whenever I can which is good for the environment so this is one instance where selfishness is a win-win.
I always prefer the scenic route over the fastest route.  This causes a bit of a conflict at times (see #2).
I avoid mystery and thriller films.  I have little time to spend in movie theaters these days so when I do have the opportunity, you'll find me most likely watching a comedy or some type of feel-good film.
I read in the bathroom.  Too much information?  Sorry, too late.  Now, I know I can't be the only one who does this so, 'fess up!
I'm kind of particular when I order a dish in a restaurant.  Not like Meg Ryan in When Harry Met Sally but you get the picture.  I'm big on getting things on the side.  I don't lose my mind when I don't get what I want.  However, I do speak up which often results in an attempt by the establishment to get it right, getting the dish comped or the chef sending over a dessert.  It happened just last night.  Businesses want to make customers happy; we just need to communicate clearly and be respectful if/when something goes wrong.
I'm trusting.  Just yesterday, a complete stranger offered to help my son across a round bridge (a joy for tourists and locals alike!) and I didn't think twice about handing my son over to him.  My son had just scraped his knee and was slightly on unsure footing.  The man looked kind.  Husband was watching though momentarily trapped by a throng of tourists.  It all worked out.
AND THE AWARD GOES TO
The You're Going Places, Baby award goes to Tessa Munson Wood with Mama's Reflections!  I recently met Tessa and instantly connected to her blog.  The first time I clicked, I noticed the links on her left margin.  She endorses a number of organizations that I also support.  She's a co-op founder, a photographer, a mama and an activist (mamavist) who has a strong connection to Africa.  Her post comparing humanity to Aspen trees is profound and stunning.  Her reflections are deep, her writing is thoughtful and her dreams are big.  Tessa will surely go places.
The Beautiful Blogger award goes to Katie Tallo with Momentum Gathering!  My memory of meeting Katie is a bit fuzzy.  What's far from fuzzy are her lyrical posts about the soul and joyful living.  Whether she's writing about Living Life with Wild Abandon or encouraging you to launch a mutiny against your unhealthy self, you will feel Katie's unmistakably luminous spirit through her beautiful words.  Katie is a writer, director, runner, mother, vegetarian-to-vegan and many other things.  Katie adds much beauty to the blogosphere.
+++++++++
What were you up to a year ago?
Has it gone by fast for you as well?
+++++++++
Image by smcgee