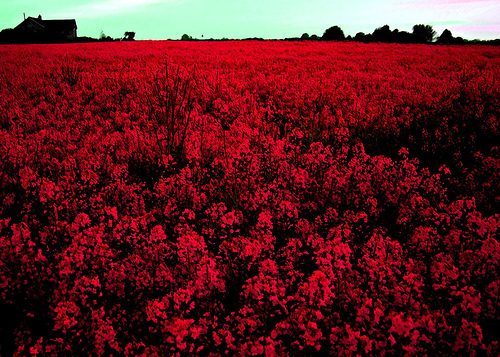 The past weekend was all about emotion.
I've cried. I've laughed. I've chortled in a hands-down un-ladylike manner. I've yearned for simpler days as though I've ever known of their existence. I've even wished the deluge of emotion would stop, if only for a moment to catch my breath.
THAT'S A DEER, NOT A PLASTIC BAG?
Saturday was a gorgeous day in the country; rolling hills and fields of lush green bathed in golden sun — a mere thirty miles away from the mini-cosmopolis I call home. It couldn't have been a more perfect day to celebrate a group of environmental stalwarts who, many decades ago, had the courage and vision to say NO to development. I thought about how deeply connected they must have been to the land, being so young and naive with instincts so pure they wouldn't let anything get in the way of trees growing, animals roaming, rivers flowing. I wondered if they knew they were being heroic. They humbly stood on stage for boisterous applause and a standing ovation, looking unassuming in their golden years; a far cry from the distinguished-looking pinstripe-suited, fund-raising men we are seeing this election season whose talking points deftly skirt around the issues of our questionable environment, health care and our collective well-being. I breathed the fresh air for some healing.
CAN YOU SAY VAGINA?
Sunday was art and activism at its finest. I had the privilege of reuniting with my Democratic Republic of the Congo posse for a day of theater, reflection and celebration. What did we watch? The world premiere of acclaimed playwright, activist and Tony award-winner Eve Ensler's new play Emotional Creature. What did we celebrate? To put simply, we celebrated women and girls from every corner of the globe; vaginas of every stripe, shape and shade; emotion of every height and depth, unnamed, unidentified or hashed-and-rehashed-to-death; and all the intimate intricacies of knowing, being, feeling and living the emotional creatures that we are. If you're a man reading this, I can see how off-putting and intimidating this may all sound. I can see how you might instinctively avoid such a scene, opting more for a seemingly safer, not-quite-real-time, though just as vagi-centric Nora Ephron (RIP) masterpiece. But the secret of all secrets is, if you're a man sprinkled amidst the layers of bodacious contours of women gathered together, you will be embraced. You will be accepted. You will be pulled in, adopted, integrated and counted as one of us, and humanity will have leaned toward evolution, even if only a tiny bit. And one more thing, you might find yourself unsuspectingly feeling at home. Home where muscles relax, minds open up and hearts expand. Home where the body and spirit align. Home where the thermostat is always set for comfort. Home where tears cleanse. Home where love wraps unconditional healing warmth.
I CAN'T HAVE WHAT?
There's been an awful lot of talk once again about whether or not women can have it all, thanks to Anne-Marie Slaughter's piece that sparked this age-old (and, if I may be frank, tired and too-traditional-thinking-for-my-taste) debate. From an observer's standpoint, it's been fascinating following the discussions around work, feminism, parenting, choosing not to become a parent and any other topic that inevitably comes to the fore when women talk about what matters to us. As an empathetic reader, I see all sides. But as a woman who is constantly faced with the day-to-day friction created by a whole host of issues rubbing together, I'm begging for a different conversation. I'm craving a different focus from a wider lens that engages a larger swathe of citizenry. I refuse to align myself with anyone, woman or man, lamenting the reasons for not having it all. Not when my city is teeming with homeless women and men who can count the number of things they have in one hand. Not when American women more often than not have the luxury of choice on many aspects of our lives, compared to the billions of women and men around the globe whose idea of having it all is confined to the very basics. Not when the perceived lack eclipses the bounty. Not when I feel deep in my heart that I'd prefer to focus on what I do share with others rather than what I do or don't have for myself.
I have a brain. I have a heart. I can feel and decide for myself what I, as a woman, as a human being, set as standards by which I assess the richness of my life.
+++++++++++++++++
Are you comfortable with being an emotional creature?
Have you celebrated it lately?
Do you know anyone who needs help saying the word vagina? Penis? Can we truly appreciate and embrace women and men for all our gifts if these words are eternally unutterable?
Can we process our realities, our truths, if we struggle to accept, validate or freely feel our emotions?