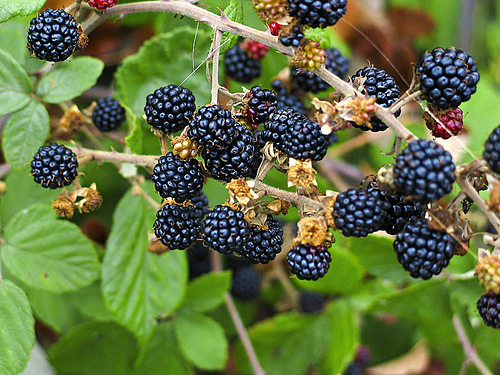 Summer.
Brambles with berries, who can resist? I pluck a plump fruit, staining my thumb with its juice. I pause, remembering last summer's crop, wondering if this is as sweet as it looks. Summer seems to be the season when I'm most keenly aware of how quickly time flies. It has a distinct character of aliveness that makes sensing, feeling and paying attention effortless, thus making moments of presence ripe for both nostalgia and anticipation.
Thirteen summers.
I've been spending a lot of quality time with my son these past few weeks. My watchful eye is glued to him and I often get that look easily spotted on any random parent's face — a combination of love, pride and joy tinged with a sliver of constant letting go. Then I get to thinking: thirteen summers. Thirteen summers ago, I got married to a wonderful man having no plans or expectations of shuttling a happy kid with calloused hands from climbing trees. If I'm lucky, I'll have thirteen more summers of co-parenting, of guessing my way through this gig before he flies the coop.
Surrender to summer.
Things that tether an up-and-up, face-forward approach to living — relationships, commitment, obligation, responsibility — have a natural way of moving along with each season. But then there's the occasional need to defect from a reliable rhythm by embarking on an adventure, a detour, a retreat. These things, while they interrupt momentum, make the pause worthwhile as they add volume and dimension to a life well lived.
Summer helps me remember what I all too often forget:
*that vigorous play is invigorating
*that water fuels everything that lives
*that seasons are irretrievable but memories are not
*that each day is made for memory-making
*that popsicles bring out the kid in everyone
*that fun is not meant to be merely optional
Somehow, surrender seems easier in the summer. Schedules are fluid when there are berries to pick. Buttoned-down for business seems silly when everybody else is at the beach. Floating along is effortless in the warmth of the sun. So I give in. All too soon, it will turn into a howling wind leaving an aftermath of shriveled leaves crumbling underfoot.
++++++++++++++++++++
What have you surrendered to this summer?
What memories have you made this summer?