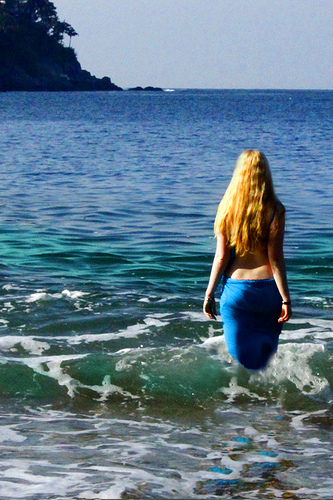 I've been sending you all a subtle message all week.  I wonder if you've noticed.  First, I coax you to ponder your favorite things.  Then, I nudge you to take your responsibilities a little less seriously and play a little more.  Today, my mission is clear.  I'm here to convince you to take a vacation.
That's right.  A vacation.  A little break to relax those frenzied nerves.  A respite from the daily grind.  A change of scenery to nourish your senses.
THE EXCUSES
I can almost hear the excuses.
"It's not in my budget."
"Now is not a good time."
"There's too much work to do."
Though you may know in your intelligent mind that these — every single one of them — are excuses, allow me to address your concerns.
It's not in your budget? Consider this: with a car (your own or rented or borrowed), a tent and bug spray, anyone can get away.  If you're interested in house swapping, you might even make some new friends.
Now is not a good time? I can appreciate this excuse.  But even though now is not a good time for a holiday, now can't be a bad time to make plans for one in the coming months.
There's too much work to do? Ask yourself if the work is ever done.  The likely answer is no which means work always waits to get done.  So what's a week or two of delay?
Now I know that some of you may not work for pay.  But guess what?  Though you may not get paid a salary, you still work.  Yes, you do.  And if you have at least one little kid to parent, then you probably work a lot.
So, go on.  Let's scan that calendar and start warming to the idea of, uh, relaxing.
WHO AND WHERE
If you are in the U.S. and haven't taken a vacation in a while, this upcoming Memorial Day weekend can serve as a trial run.  (Note to all workaholics: the first step is to not work on a holiday.)
Flying solo?  Great.  Any pace will do.  Going as a couple?  Oooh la la.  Taking the family?  Pack a homeopathy kit for the kids.
As for where to go, hmmm.  Do the sights and sounds of a city call to you?  Would you rather pick berries and be one with nature in the country?  Is your psyche swimsuit-ready for the beach?  Does your comfort zone crave a bold adventure in the jungle?  The variety of possibilities is too many to mention.  Whatever destination your heart desires is but a few clicks away.
Convinced yet?
Then let's get a-clicking.  There are many online gateways to a getaway but my favorites are still Expedia for package deals, Tripadvisor for reviews and Homeaway for alternatives to a hotel.  None has steered me in the wrong direction yet.
So, get ready to pull that luggage out.  Fill it with light and layering pieces.  Throw in a pair of flip flops.  Soon, you'll be smiling, laughing and doing a lot of nothing.
How does that sound?
+++++++++
Where would you like to visit?  When can you go?  What's stopping you?
What do you like to do on vacation?
When and where did you go for your last getaway?
+++++++++
Image by Elven*Nicky