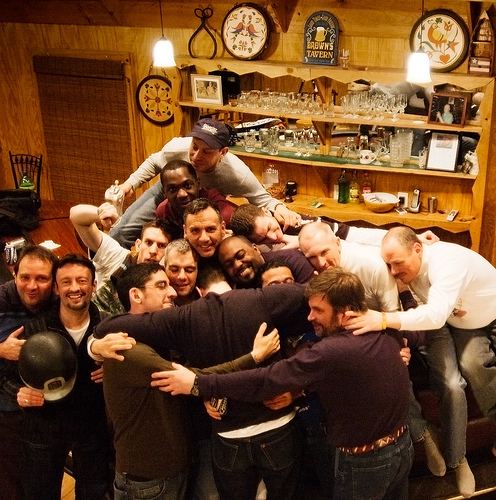 Last night, I got upset over something silly.  Something got to me and my often readily accessible sense of humor kept me from simply laughing it off (please tell me I'm not the only one!).  In the interest of protecting the innocent (in this case, you, dear readers), details of the drama will be spared.  However, what was unusual about it was my son, who normally would be preoccupied with an activity, tuned in to me.  He picked up on my frustration and, without hesitating, threw his arms around me.
In that instant, I melted.  I melted not because his disarming ways often reel me in.  I melted in the way that I often do when I'm struck that love is present.
I didn't anticipate that my being upset would make him upset.  In an unexpected instance of role reversal, my son, with his unabashed instinct to express concern and protectiveness, gave me the biggest, sweetest hug and soothed me.  I'd like to think he learned that from me.  It's almost exactly my style, minus the lecture, as I often give him one after he's been soothed.  (I do believe his style is superior, just saying.)
LOVE IS PRESENT

That hug instantly transformed me.  It was loving, healing and, though I couldn't have known at the time, was just what I needed.  I went from upset to reset within seconds.  (I'm theorizing that pre-schooler hugs, the unprompted kind, may have the same effect as a 90-minute deep-tissue massage.)
IS THERE ANYTHING MORE POWERFUL THAN LOVE?
I would say no, because I haven't seen a more compelling element that can change a person for the better.  Status?  No.  Conventionally-defined success?  No.  Beauty?  No.  But the answer to this question is not a foregone conclusion.  Ask any two Nelsons and they'll say different things.  For Nelson Mandela, education is the most powerful thing there is to change the world.  For Nelson Rockefeller, the most powerful force on earth is love.  Who's right and who's wrong?
HIDE AND SEEK
I believe that love is present everywhere.  Cerebrally speaking, it makes sense to believe that love is everywhere.  We're all human; humans have the muscle for love; it's human to exercise that muscle and humans are everywhere.  Yet, every now and then, I don't just want to believe.  I want proof; to see it with my own eyes.  In front of me; not as told to me by credible sources.  Past my bubble of a world where everyone loves me (or at least has learned to tolerate me).  Away from Shakespearean sonnets and singer-songwriter love songs.
Though we humans talk and write about love endlessly, we don't always show love, do we?  I'd even venture to say we hide it.  Overtime, we learn to mask our vulnerability, maybe even our essence, along with our instinct to express sympathy and a desire to connect.  We keep to ourselves; insular and withdrawn, opting for less meaning/significance/connection/trouble, some may say, than more.
Oh, I see love sometimes.  It's just that I'd like to see and show it more instead of hide it more.  Wouldn't you?
PEEK-A-BOO, OR OPERATION HIDE LOVE LESS

The little ones love to play peek-a-boo. Their unaffected and non-self-conscious ways, a sort of moonbeam to me in these literally foggy nights, remind me daily that, unlike them, I've learned to hide love.
I'm reluctant to dispense advice in this space because: 1) a lot of advice is common sense, 2) we all have common sense; some are less confident than others to use it 3) we each have to figure out for ourselves what path or course of action is right for us and 4) I believe that there is far more wisdom in each person than he/she acknowledges.  Still, I for one would like to see love more and hide love less.  And so, I think the way to make this happen, as I've observed the little ones do it, is by:
becoming more generous with sympathy
listening without judgment
seeing/accepting someone for who they are — flawed and exquisite
acknowledging that everyone is worth the time, effort and trouble
not withholding smiles, giggles and laughter
being helpful if help is needed
refraining from dispensing unsolicited advice (because who wants it?)
being supportive
hug without a lecture
accepting that people will love who they love
++++++++++++++++++
What do you think of Operation Hide Love Less?  Is it unnecessary?  Is there enough love in the world that we couldn't use more of it?
What are your strategies/tactics for hiding love less?
Anyone else thrilled about California's Proposition 8 having been overturned recently?
++++++++++++++++++
Image by CarbonNYC